1. Monochromatic palette – A kitchen with uniform counters, walls, and floors will feel much more spacious than a mix and match kitchen. Heavy contrast can create a jarring distraction visually and cause the room to appear smaller.
2. Mirrors – Mirrored cabinets and other furniture are gaining popularity again in 2016 and it is no surprise. Mirrors help reflect light and create a visually larger space. Mirrored finishes in combination with white, bright cabinets really expand a room.
3. Small furniture – Even if your eat-in-kitchen needs a functioning dining table, you can opt for smaller options to make the most of your space when the table isn't in use. Try a bistro or pub style table for 2 or 3 people. Or use a table with expandable leaf to enlarge it for company and keep your space open the rest of the time.
4. Electric stovetop – Though many kitchen chefs prefer to cook on a gas range, a kitchen chef also understands the importance of counter space. When an electric stovetop is off, the surface is totally flat and can provide additional counter space for prep work. Plus these stove tops are easy to clean. Win-win!
5. Island seating that doubles as eating space – Islands can serve as a double edge sword, utilizing precious foot space in a kitchen, but providing extra counter top space. Make the most of your small kitchen island by finding chairs that nestle perfectly beneath, but turn the island into a dining space when needed.
6. Ceiling height cabinets – If your space can't move out, move it up! Ceiling height cabinets provide additional storage for those dishes you rarely use. Just keep a step stool handy for easy access.
7. Lacquered finishes – A shiny finish will provide some of the same benefits as mirrors. This finish helps to bounce light around and brighten up a small kitchen space. Plus, lacquered cabinets are super modern and stylish!
8. Take walls down – If the structure of your home allows, removing walls can be a great option to open up a small feeling kitchen. Be wary of losing too much counter space though! Another great option is to create a pass through window to other rooms.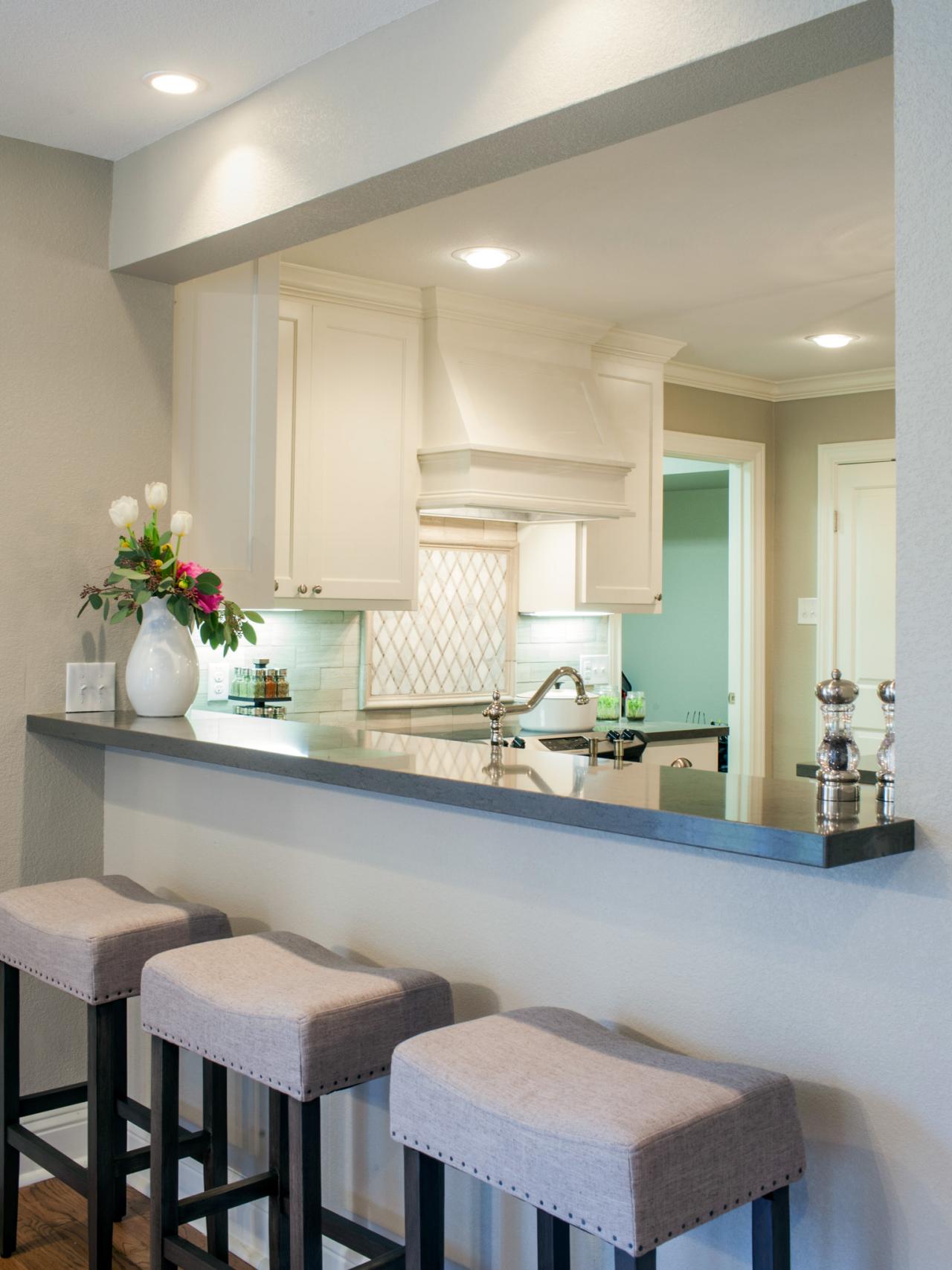 9. Lighting is key – It's no secret that light helps spaces feel larger. Create lighting opportunities in your kitchen by installing under mounted cabinet lighting or recessed ceiling lights. Avoid lamps, which can take up valuable counter or floor space. Larger windows can help give more natural light, too.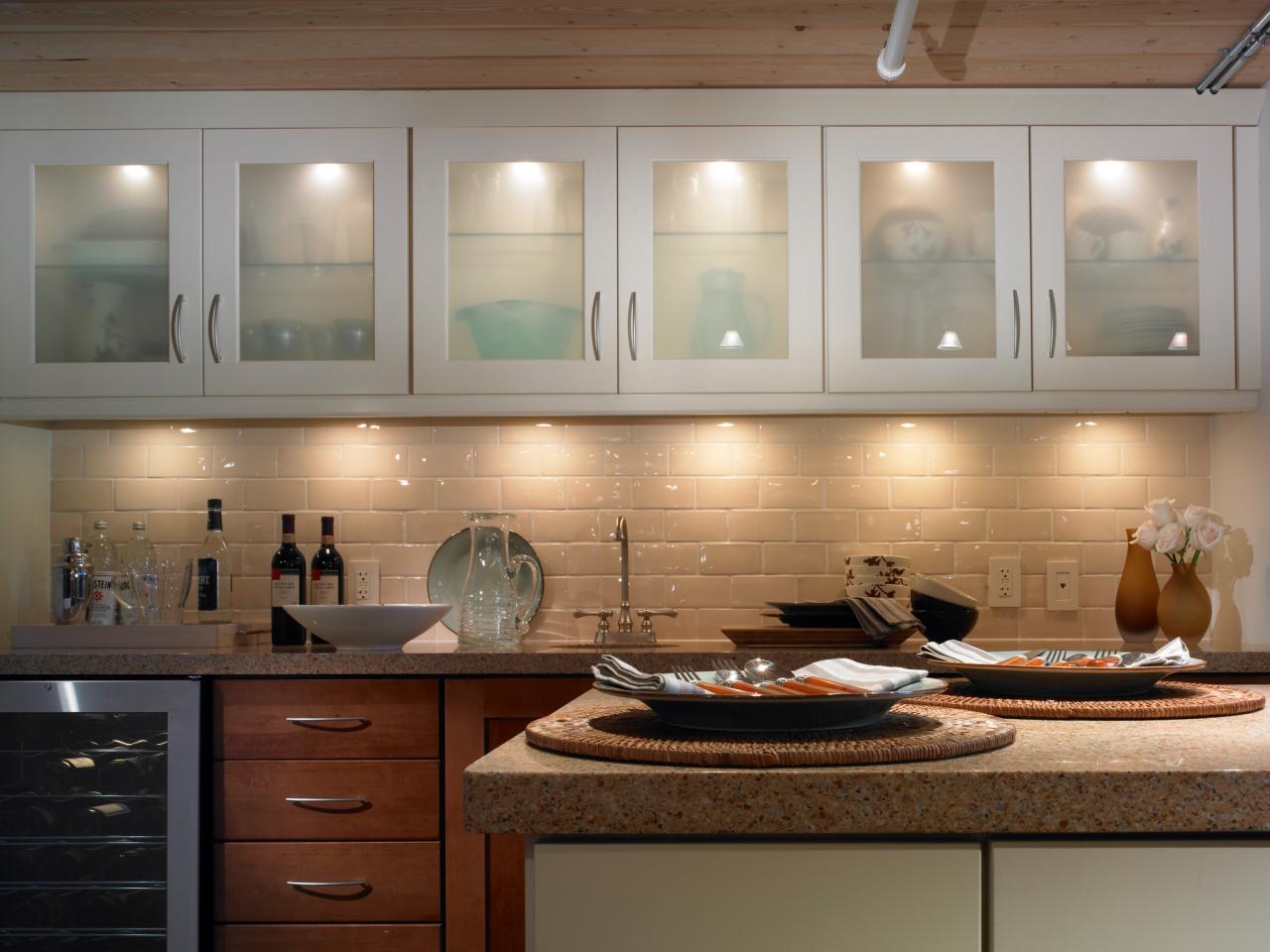 10. Smart storage – Kitchen efficiency is BIG in 2016. Utilize special storage drawers and cabinets for your cookware to make the best use of cabinet space. Under mounted hanging racks for glassware can open up additional cabinetry. Recessed pantry spaces can even help leave a smaller footprint. The options are endless.
11. Design with clean lines – Minimalism is not only timeless and classy but incredibly useful in opening up cramped spaces. Cabinets with flat fronts, monochromatic backsplashes, and modern hardware can create strong lines that visually extend your limited space.
12. Open shelving – Floating shelves can create less bulky space than cabinets and give a more airy feel to a kitchen. Just make sure to keep them organized and clutter free or you'll ruin the effect.
13. Less is more – Less personal touches, less decorations, less clutter, less appliances on the counters, less is more! When in doubt, throw it out (or just store somewhere else). Keeping your counters clear literally gives you more working space and opens up a small space. Save the personal touches for a room with more space.
Ideas To Make Your Small Kitchen Feel Larger
was last modified:
November 22nd, 2016
by